Free delivery on all orders

No minimum spend

Same day delivery within 2 hours (place your order before 9 PM)

Safe and secure shopping

We are a MOHAP approved online pharmacy
Mucoplexil Dry Cough Syrup 150ml
23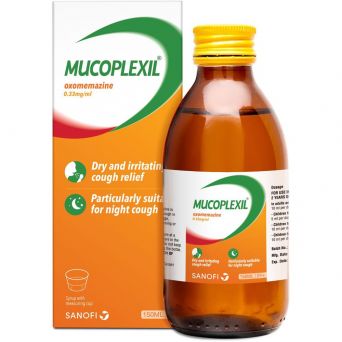 Benefits
• Does not contain alcohol
• Suitable to use from the age of 2 years old
• Made in France
How to use
Adults and children over 40 kg: 10ml of syrup per dose, 4 times a day.

Children aged 2 years to 12 years, the daily dose is based on the child's weight:
• Children from 13 to 20 kg (i.e. 2 to 6 years old): 5ml per dose, 2 to 3 times a day.
• Children from 20 to 30 kg (i.e. 6 to 10 years old): 10ml per dose, 2 to 3 times a day.
• Children from 30 to 40 kg (i.e. 10 to 12 years old): 10ml per dose, 3 to 4 times a day.
Disclaimer
Stop the treatment and consult a doctor immediately:

• If you have signs of an allergic reaction to the medicine such as: redness of the skin, eczema, purple patches on the skin (purpura), swelling, sudden swelling of the face and/or neck
that may cause difficulty breathing and put you at risk (angioedema), sudden malaise with a significant drop in blood pressure (anaphylactic shock).
• If you have an exaggerated skin reaction after exposure to the sun or UV rays.
• If you have a significant drop in the number of certain blood cells: white blood cells (neutropenia, agranulocytosis), platelets (thrombocytopenia) or red blood cells (hemolytic anemia).

The following effects may also occur:

• Drowsiness, decreased alertness, especially at the beginning of treatment.
• Memory or concentration disorders, dizziness.
• Movement coordination problems, shaking.
• Confusion, hallucinations.
• Dry mouth, visual disturbances, difficulty urinating (urine retention), constipation, heart palpitations, significant drop in blood pressure when standing up sometimes causing dizziness and/or malaise (orthostatic hypotension). More rarely, signs of excitation.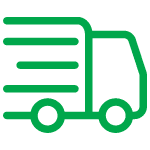 Free delivery
on all orders
We prefer to keep it clear:
No service charges.
No minimum spend.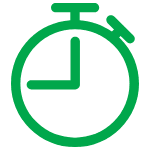 Same day delivery
within 2 hours
Same day delivery on orders placed before 9 PM.
Receive your products within 2 hours at your preferred location.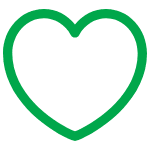 Taking care of our
community since 2006
Genuine pharmacy care for your well-being.
Over 15 pharmacies in the UAE.